Students Showcase Research
On 21 October 2016, the University hosted a oneday Student Research Symposium (SRS), themed:
"Research and Innovation: The Pathway to a Sustainable Nation".
This event was initiated by a postgraduate in Computer Science, Lameck Amugongo. The main aims of the SRS are: to give students an opportunity to present and demonstrate their scientific work; equip students with technical and scientific writing skills; enhance focus on applied research; and develop a culture of publishing amongst young researchers. 
Students showcased and presented their applied research addressing some of the pressing issues in Namibia, such as water shortages; social inequality; access to information; black economic empowerment approaches; determinants of HIV infection and prevalence in Namibia; fire history and many more.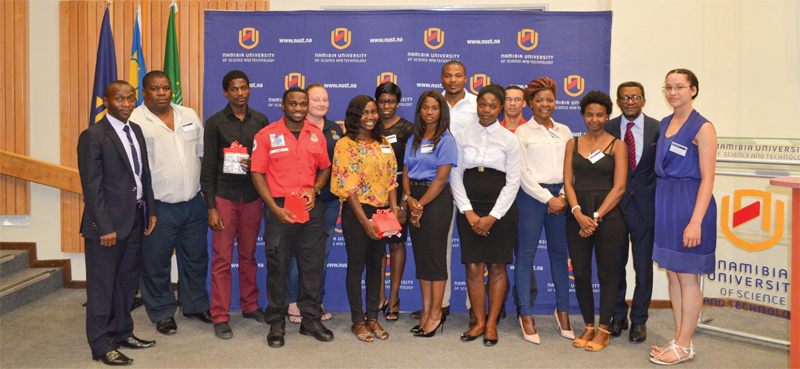 The Vice-Chancellor, Dr Tjama Tjivikua, in his welcome said that he was impressed with the topics that were to be covered, and that the students were creating solutions to current challenges in Namibia. He  encouraged all students to engage with other students so as to increase the number of papers presented for next year. He furthermore commented that the students must cooperate and manage this initiative, and they must own it as it prepares them for presenting and publishing research papers in their future (relating to postgraduate studies, etc).
In her keynote speech, Dr Heike Winschiers-Theophilus, encouraged students to physically go out and find new inspiration, and to pursue research while they are still young. She further encouraged them to ask many questions and to keep challenging research paradigms. She advised the students that their research must have a purpose, and it must make an impact, with an emphasis on local workability and at the same time create new theories which can be applied internationally. She concluded by saying that the students should be critical of mainstream thinking; and contribute to society at large, share their knowledge and also share all the glory.